The Farm is stocked with most essentials; we suggest bringing any items that are important to you and your trip.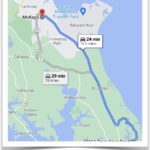 The nearest grocer that we recommend is:
McKay's
22599 MacArthur Blvd, California, MD 20619
We recommend stopping there on the way down.
You'll also pass a Harris Teeter, Target, Giant and Walmart on the way to the Farm on Three Notch Rd.
The closest convenience store is Dollar General located in Ridge which is just a 15 minute drive if you're in a pinch.
If you're looking for a terrific bakery with amazing breads and treats, go online and order from Enso in St. Mary's City (you have to order the day before). It's less than 20 minutes away and you'll enjoy the scenic drive through historic St. Mary's City.